Youth Ambassadors
Cooperating Online Protecting Creativity
---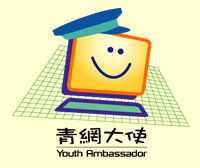 Youth Ambassador Against Internet Piracy《青少年打擊網上盜版大使》("Youth Ambassador") is a scheme implemented by the Customs and Excise Department (C&ED). Under the scheme, C&ED has recruited 11 local youth uniform organizations in 2006 and their 200,000 members to form a strong alliance, which aims at fighting illegal file-sharing activities by using BitTorrent (BT) software on the Internet.
The scheme has the following 3 major objectives:
promoting the importance of intellectual property rights (IPRs);
expanding the channels for monitoring illegal Internet activities; and
reducing the flow of BT seeds on the internet.
The scheme also enables local youngsters to have direct participation in fighting internet piracy and allows them to cultivate the sense of respecting others' IPR at a young age.
Apart from 200,000 youngsters aged from 9 to 25, the "Youth Ambassador" is also supported by representatives from 6 copyright owners, which represent most of the copyright works ranging from foreign and local movies, TV series, MTV and local comics.
C&ED has set up a web page and a report mechanism under the website of the Intellectual Property Rights Protection Alliance (http://www.iprpa.org). Each organization joining the scheme will be assigned a unique logon password, which allows its own members to logon the web page and report details of illegal BT file-sharing activities found on local discussion forums. Upon receiving the information, C&ED will scan the data and pass them immediately to respective copyright representatives, whom will then ascertain the validity of the information and notify corresponding webmasters of the discussion forums to take appropriate actions, such as deleting the alleged messages with BT torrent files from their sites.
The launching ceremony of the scheme was held together with the re-launch of IPD's "I Pledge" Campaign on 19 July 2006. Around 2,000 youth members attended the grand ceremony officiated by senior government officials, heads of the copyright owners and youth uniformed groups as well as some famous artists. To facilitate implementation of the scheme, C&ED has provided training to some trainers of the youth uniformed groups so that they will, in phases, train up members of their own organizations.
Since April 2013, the coverage of the YAS has been enlarged from 11 to 13 YUG with the participation of the Auxiliary Medical Service Cadet Corps & the Association of Hong Kong Flag-guards. With the continuous development of YAS, protection awareness of IPR can further cover youth ambassadors' family, friends, classmates and to the society.